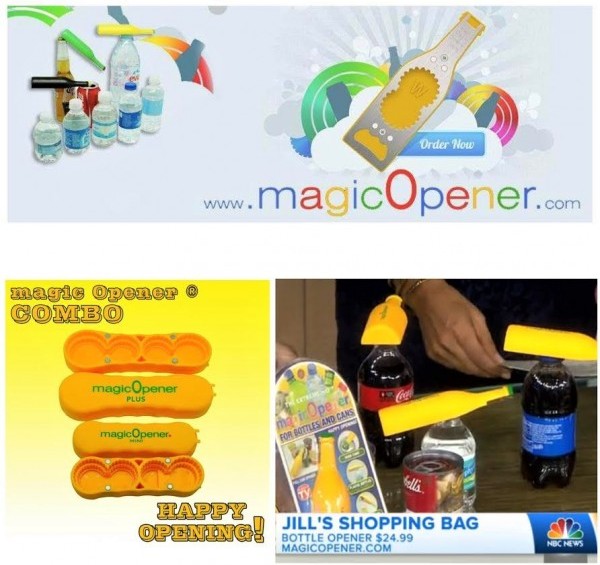 All his life, magic Opener Creator Pablo C. witnessed someone he loved and cared about struggle with certain everyday tasks, like opening bottles and lids. With over 100 million Americans suffering from debilitating chronic pain conditions like arthritis, carpal tunnel, etc., Pablo knew there was a real need for solutions that could help people with such tasks.
Although there were already a few can openers and bottle openers on the market, nothing really seemed to serve as the one and only go-to solution that could help his loved. So Pablo set out to do something about it. He began gathering key feedback and suggestions from others in need of help in order to come up with his own innovative solution.
---
---
After years of testing and market research, he designed the first version of what was like a magical, all-in-one bottle and lid opener – "the original magic Opener." It was the first of its kind on the market that opened many different sizes of plastic tops as well as the regular aluminum cans and glass bottles.
The magic Opener® is not only mult-functional, it's especially helpful for people suffering from joint and hand problems, as well as those with limited hand strength. With it's comfortable, curved design and the extra leverage, the magic Opener® makes for a very useful tool for anyone who needs help — from smaller children to senior citizens.
Many can benefit from not fighting to twist off a bottle top or break a nail on a pull tab – magic Opener® easy bottle opener grabs and grips the cap and eliminates the pain and strain by combining the three most common types of beverage openers into one easy-to-use product. It can open most plastic screw on bottle tops, aluminum pull tabs and metal bottle caps. The magnetic back is a bonus, which allows it to stick right on the refrigerator, grill, or on any metal surface, making it handy to store and use. People are finding that the curved bottle design of magicOpener ® makes it effortless – so easy to grip and use…virtually a pain free opening.
"My commitment to bringing a real self help with the best opener to the 21st century has been a nonstop passion for over a decade," says Pablo.
Fast forward years later, and the magic Opener brand now has a variety of similar yet new and improved solutions, such as the magic Opener Extreme, (with four read- to-use sizes) the magic Opener Plus (ideal for large bottles and caps), the magic Opener COMBO (that can open 16 sizes of popular lids and cap brands), and more!
Pablo says he could probably write a book about the journey of developing this product, and all of his team's hard work and dedication has paid off – magic Opener has since been highlighted on major outlets such has The Today show, New York Times, USA Today, and more.  Read more about his latest innovation the magic Opener COMBO and all it's benefits, below.
The magic Opener COMBO – A Must-Have Kitchen Gadget that will Make Your Life Easier! 
The magic Opener COMBO is something everyone should have in their kitchen. This one handy tool helps open an array of various sized bottle caps and cans. It's a must-have for those who has trouble opening caps and lids of any size! 
Super easy to use, magic Opener COMBO can twist, flip and pop open practically all of your favorite beverages and food cans with no problem. From eco-friendly smaller caps on traditional water bottles, to larger Vitamin Water or Gatorade caps and most sizes in between – the magic Opener COMBO is your all-in-one solution. Watch this short demo video by clicking here. 
Made with a strong and resistant material, magic Opener COMBO even has a magnetic backing, so you can even stick in on the fridge or barbecue nearby for easy access when cooking or grilling.
Opens 16 popular brand bottle and can cap sizes
includes a can opener for soda cans and larger food can pull-tabs
Includes 90-Day Money-Back Guarantee, no questions asked
Available online
$29.84
Complete, unique, and exclusive, the magic Opener COMBO is a modern day kitchen essential for all walks of life! Check out this helpful FAQ page that explains why anyone will appreciate this must-have product!
The post A Helpful Innovation Inspired by a Loved One's Special Need: The magic Opener Combo appeared first on Home Business Magazine.