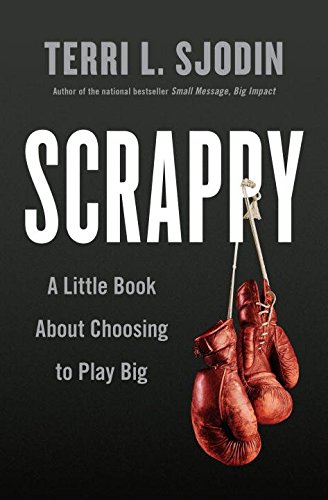 By New York Times bestselling author Terri Sjodin
Portfolio/Penguin
For those times when hard work and persistence just aren't enough, getting scrappy is the way to beat the odds.
In Scrappy: A Little Book About Choosing to Play Big (Portfolio/Penguin; August 23rd), bestselling author Terri Sjodin tells the stories of extraordinary-ordinary people who got scrappy to reach seemingly elusive goals while saving time, money, and sanity in the process. Drawing on these entertaining stories as well as research, interviews, and personal experience, she identifies scrappy tactics that worked (as well as those that crashed and burned), providing both down-to-earth and over-the-top ideas to consider.
Whether you're a sales rep, a job-seeker, an entrepreneur, or a Fortune 500 executive, the fastest and most effective way to get what you want is to get scrappy. To be scrappy is to have the determination of a street fighter, to take risks no matter what obstacles or opposition you face and to play big.
Proving that scrappy success is not based on luck but replicable wisdom, Sjodin celebrates the astonishing achievements of scrappy people like:
The Girl Scout who sold 117 boxes of cookies

in two hours

…outside a medical marijuana dispensary
An entrepreneur who turned his home into an indoor jungle to sell investors on his Rainforest Café Restaurant chain
The marketer who persuaded the Dali Lama to attend his annual conference
The business woman who landed her dream job through persistence even though the position didn't exist
The owner of a memorabilia company who made $50 million in sales by selling dirt
Through these inspiring stories, you will learn:
Ø  How to cultivate your best ideas
Ø  How to manage risk and bounce back from mistakes and failure
Ø  How to scale a scrappy culture and strategy within an organization
Ø  How to execute your plan when you're ready to "put your tush on the line"…and much more.
Sjodin's wise advice will give readers the edge on how to reach their goals faster and easier. With SCRAPPY's practical and tactical advice, the results will be transformational.
Terri L. Sjodin is the principal and founder of Sjodin Communications, a public speaking, sales training, and consulting firm. For more than twenty years she has served as a speaker and consultant for Fortune 500 companies, industry associations, academic conferences, CEOs, and members of Congress. She lives in Newport Beach, California. She is the author of the New York Times bestseller Small Message, Big Impact: The Elevator Speech Effect, published by Portfolio in 2012. She has been interviewed by The New York Times, The Today Show, MSNBC, Fox and Bloomberg TV. She lies in Newport Beach, California. For more information about the book and Terri Sjodin, visit: www.scrappy-thebook.com.
The post A Little Book About Choosing to Play Big appeared first on Home Business Magazine.