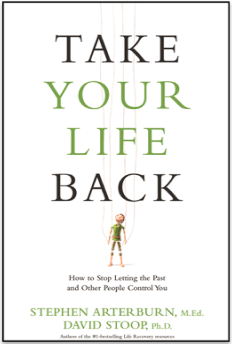 Best-selling authors Stephen Arterburn, host of the No. 1 faith-based counseling radio talk show, and Dr. David Stoop, a licensed psychologist, are helping individuals find freedom from personal guilt, shame and pressure from others in their new book, "Take Your Life Back: Stop Letting the Past and Other People Control You," releasing from Tyndale Momentum in October 2016 (ISBN: 978-1-4964-1367-3, MSRP: $15.99, Format: Paperback, 272 pages).
"Take Your Life Back" uses personal examples, clinical insight and foundational truths to help readers of all backgrounds identify and overcome negative relationships and situations that are holding them back from living a fulfilled life. Whether married or single, dealing with the trials of parenting, facing addiction to food, struggling to finding a work-life balance or seeking to overcome shame and regret, "Take Your Life Back" provides practical solutions for every issue.
"Everyone is dealing with something that is holding them captive, but only when you're willing to face up to your destructive behaviors will you be able to even begin to take your life back," said Arterburn. "The entire purpose for 'Take Your Life Back' is to show you that real and lasting change is possible. Not only possible, but also achievable. At some point, we all must stop reacting and learn how to respond appropriately instead. "In "Take Your Life Back," Arterburn and Stoop guide individuals through recognizing and owning the need to change before providing the vital steps to obtain peace and balance in their lives.
"Taking your life back is not just about setting boundaries," said Arterburn in "Take Your Life Back." "It is about finding roadblocks, sink holes and dead ends that have disconnected people and stopped the journey together from going forward."
Arterburn and Stoop are well-respected leaders in their field with vital experience in helping people overcome life's trials. Stoop is a licensed psychologist, pastor and Gold Medallion-winning author of more than 30 books. Arterburn, the founder Women of Faith and New Life Ministries, hosts New Life TV and the No. 1 nationally syndicated faith-based counseling talk radio show, New Life Live! He has authored more than 100 books, including best-sellers such as "Every Man's Battle," and "Healing Is A Choice."
"Our Reactions to pain and our adaptions are unique to ourselves; we are not all the same," said Arterburn. "But we have several things in common: In one way or another, we have turned our backs on reality, and we have allowed all, or portions, of our lives to be controlled by another person, a destructive pattern, or unrealistic expectations… Finding our real self and taking our life back involves pursuing adult relationships that are based on healthy and secure attachments."
"Take Your Life Back" is scheduled to release from Tyndale on Oct. 4, 2016, just prior to the 25th anniversary of the authors' No. 1 best-selling Life Recovery Bible in January 2017. More information is available at https://www.tyndale.com/p/take-your-life-back/9781496413673.
The post Best-selling Authors Provide Practical Steps for Breaking Free from Problems & People in New Book appeared first on Home Business Magazine.