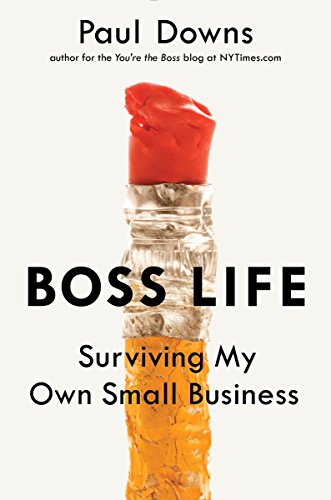 **A Forbes Best Business Book of the Year, 2015**
**Winner of the 2015 800-CEO-READ Business Book Award in Entrepreneurship**
"A memoir – not a manual – about life as a small business owner, complete with honest reflections on failures and shortcomings." —Forbes
Since 1986, Paul Downs has been the owner of a small custom furniture business, now specializing in premium conference tables. His company has neither failed nor thrived, a narrative that is the reality for more than twenty-five million small business owners in America. Many business books tell aspirational stories of a few successful, famous, and wealthy people, glossing over their career arcs without exposing the realities of being a boss. Now in paperback, BOSS LIFE: Surviving My Own Small Business by Paul Downs (9780399185298, Blue Rider Press, Trade Paperback, on sale August 4, 2016) is not one of these books.
For years, Downs contributed to the New York Times "You're the Boss" column, sharing his experiences as a small business owner and manager in posts that focused on topics like navigating the healthcare exchange or firing a veteran employee. Loyal readers of his column were vocal and supportive ("Wow! You are a small business God," wrote one) and the comments sections became their own forums on small business issues, guided by Downs's knowledge and candor. In his first book, BOSS LIFE, Downs explores the issues facing small business owners today, like online advertising and a global customer base, with his signature voice and perspective.
Organized into twelve chapters, one for each month of the calendar year 2012, BOSS LIFE takes readers through a year in the life of a small business and its owner. Downs opens each chapter with an objective assessment of his company's finances: bank balance, net cash, and new contract values. Every decision Downs shares has an actual dollar value attached to it, from buying new machinery to rolling over a credit card balance. As the boss, Downs has his hands in every aspect of his company, which he divides into six categories: design, marketing, production, logistics, warranty service, and administration. One of his ongoing challenges is coordination between these components, and he tries to encourage his employees to communicate more effectively to prevent costly errors and misunderstandings.
BOSS LIFE revolves around the major (and minor) issues Downs faces throughout the year:
Coming off of a strong year, when Downs was able to distribute generous holiday bonuses to his team of fifteen employees, the new year starts well but quickly takes a turn. New business inquiries, which he and his two salesmen field, are the lowest they've been since the recession in 2008. The inquiries that do come in during the second quarter rarely lead to sales.
Downs tries finding new business overseas, even visiting Europe and the Middle East to solicit new business. After pouring over his Google AdWords campaigns – his main source of new business (p. 140) – and reluctantly employing a consultant who teaches Downs and his sales team new techniques and approaches, sales pick up in the late summer. But Downs can't be sure exactly what led to the slump, so he remains wary.
"I offer Nathan twelve dollars an hour, full time, benefits. He's delighted. He'll start on Monday. I watch him go through the door, walking tall, a man with a new job. A good day for everyone. It's one of the best things I get to do." (p. 268)
As the boss, Downs is responsible for the sensitive choices surrounding hiring, firing, and supervising employees. Throughout the year, Downs must fire an employee for falsifying a timesheet, hire some entry-level staff on a trial basis, promote a promising bench hand above a veteran shop foreman, and manage his employees' expectations during financially difficult months, all while remaining cognizant of the enormous effect his decisions can have on employees and their families.
"I don't want to give you the impression that I worry about money all the time. It's probably only several hundred times a day." (p. 30)
Though he has a bookkeeper on staff, as the owner of the company Downs oversees all the major financial decisions. He purchases new equipment, determines pay scales, pays utility and credit card bills, and keeps an eye on his cash flow. At weekly Monday morning meetings, with all employees present, Downs reviews the state of the company's finances for everyone to hear. When the company is doing poorly, Downs thinks it's important for employees to have a real understanding of what that means. (p. 123)
In April, Downs stops taking a paycheck and doesn't resume his own pay for months. The worst week of the year comes in July when the cash balance is at its lowest: $63,420, more than $70,000 down from the start of the year. Without payments or deposits, he can only afford to keep the shop open for 7 days.
"This is a business book, but you can't understand a boss without knowing what he goes home to." (p. 67)
Downs's wife and three sons are important figures in BOSS LIFE. A road trip to visit colleges leads to a broken-down car and some quick thinking on transportation options and family finances. His son Peter defers college for a year in favor of a job opportunity, giving Downs some significant financial breathing room, though he and his wife Nancy debate the pros and cons of this choice. Downs's son Henry is severely autistic, and BOSS LIFE candidly explores the challenges associated with parenting an autistic child. These narratives of home and family life offer meaningful context to the business and finance of Downs's work week.
Downs writes with thoughtful conviction about what it takes to be the boss of a small business. One day, dropping Henry off at a summer camp for special needs students, he reflects on one of his son's counselors. "Why is one person devoted to helping kids while another spends his day at a workbench, making furniture? How does our internal circuitry determine the jobs we do? Was it inevitable that I become a boss, no matter where I worked? Or am I better suited to be a worker and am only in charge by accident?" Downs's honest approach and genuine curiosity into the way of the world – from Google AdWords to woodworking techniques, from making family decisions to building his business – make BOSS LIFE an insightful personal story and a unique business book.
About the Author
PAUL DOWNS started making custom furniture in 1986, shortly after graduating from the University of Pennsylvania with a degree in engineering. Downs has only one line on his résumé but he has a wide variety of skills gained in twenty-four years of running his business. His clients range from individuals and small businesses to Fortune 500 companies, all branches of the military, and foreign governments. Downs lives with his wife and three sons outside of Philadelphia.
BOSS LIFE
Surviving My Own Small Business
By Paul Downs
Blue Rider Press
Trade Paperback
9780399185298 
$16.00 ($22.00 CAN)
On sale August 4, 2016
For more information on Paul Downs and BOSS LIFE, please visit: BOSS LIFE
For more information on Blue Rider Press, please visit: BOSS LIFE
The post BOSS LIFE: Surviving My Own Small Business appeared first on Home Business Magazine.