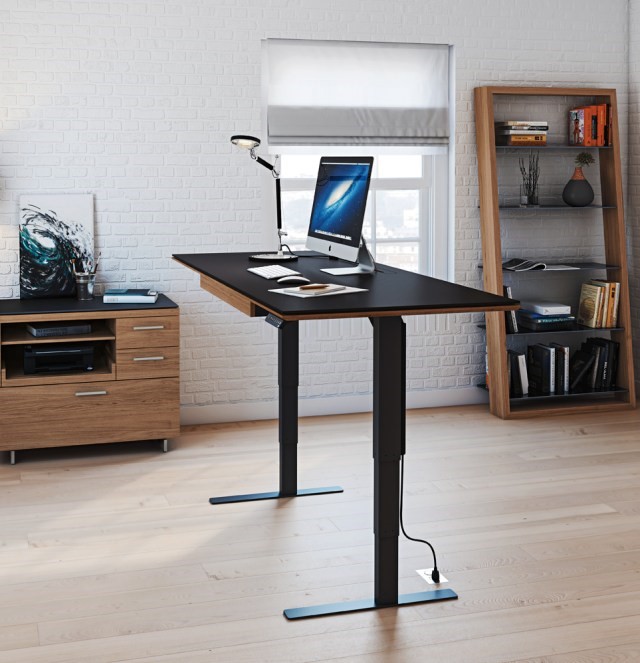 Sequel Office set a new standard for efficient and organized workspaces. BDI continues to raise the bar with the Sequel Lift Desk.
Home Business Magazine recently received a Sequel Lift Desk in Espresso Stained Oak finish to test out. The set-up of the sturdy standing desk was straightforward with detailed and easy-to-understand instructions. Exceedingly useful in HBM's home office workspace, the desk combines functionality with design. Its minimal structure takes up little space and its clean design pairs attractively with any room décor. The desks are offered in four finish options: Natural Stained Cherry, Espresso Stained Oak, Chocolate Stained Walnut, and Natural Walnut.
---
---
The health risks associated with sitting for long stretches of time have come into focus recently, with extended periods of sitting sedentary leading to increased risk of obesity, diabetes, high blood pressure, heart disease and back pain. Meanwhile, studies have also shown that extended periods on your feet can lead to other problems such as swollen ankles, varicose veins and knee & joint pain. However, workers can burn an extra 120 calories a day by standing for 4 hours, versus sitting at a desk!
Taking all of the benefits and risks into account, the optimum solution is a sit-stand desk – like BDI's Sequel Lift Desk – that allows you to quickly and easily switch between sitting and standing throughout the day.
BDI's new innovative desks are the best of both worlds. Combining beautiful styling, thoughtful engineering and ergonomic design, the Sequel sit+stand desk provides the versatility and ease of movement that every workday requires. The desk features a beautiful and durable micro-etched black glass top, in addition to an optional storage drawer to stow away your daily office supplies and electronics.
These height-adjustable desks feature a powered leg system controlled by a digital, programmable user-assigned keypad. With the press of a button, the Sequel Lift Desk will rise to your preferred sitting and standing heights. Thanks to four user-programmable presets, there is no need to overthink or continually fiddle with manual adjustments — your work surface is at just the right height every time! The ergonomic Lift Desk is sure to elevate any workday.
The Sequel Lift Desk partners beautifully with other components in the Sequel collection and features such tech-friendly considerations as integrated cable management — which keeps your work space looking neat, tidy and free of wire clutter — in addition to compatibility with most third-party monitor arms.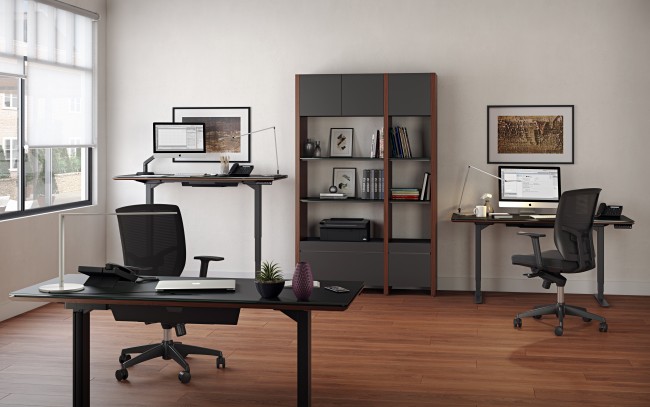 While standing desks are not new, this one is different because it is:
– the first lift desk to create a truly collaborative work space, as the wire management feature allows team members to work from both sides, creating a great collaborative space.
– the first "executive worthy" lift desk that is coordinated with the full Sequel office collection from BDI, so can be coordinated with a matching mobile file pedestal, storage cabinet or desk return for additional workspace.
– a beautifully designed, more thoughtfully engineered, higher-end product that outlasts the typical pre-fabricated models on the market. 
– Has a setting panel that allows you to create customized sit / stand settings for up to 4 people / positions.
– Has the most integrated wire management feature among the competition; full featured cable management ledge can incorporate a power strip, so only one single wire is hanging from the desk — and not a mess of wires, like you typically see.
What really sets the Sequel Lift Desk apart from other standing desk solutions on the market is the company's trademark focus on attractive design, meticulous attention to detail, and versatile functionality. There is no reason why your workspace shouldn't reflect your personality and style.
So take a stand toward healthier work habits today! With the ideal sit-stand desk set up, you can operate at your best all day, while making a significant contribution to your overall health and well-being. For more information on how to order your own Sequel Lift Desk and jumpstart productivity for your home business, visit https://www.bdiusa.com/lift.
In 1984, Bill Becker had a vision of making great Design available to everyone. Frustrated by the 'trade only' distribution of the best designed contemporary home furnishings, Bill was inspired to build a company that could develop and manufacture Designs that would actually be accessible. Today, BDI has become a force in contemporary home furnishings and an industry leader in home theater furniture. Visit www.bdiusa.com.
The post Burn Calories at Work and Increase Productivity with an Ergonomic Sequel Lift Desk appeared first on Home Business Magazine.