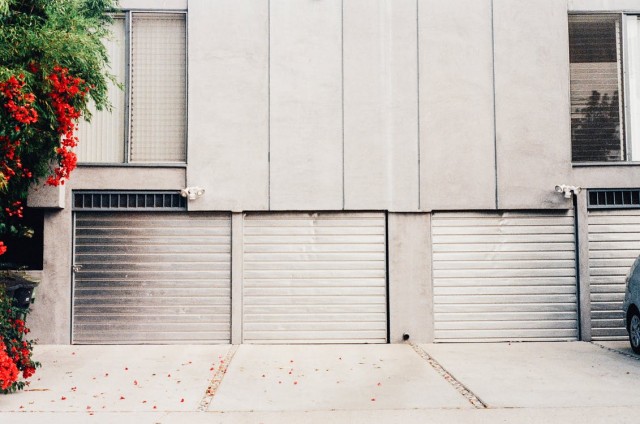 According to the studies, nearly 1 in 5 Americans work from home. If you've had experience with the wonderful world of telecommuting, you know how important your office space is to your productivity. However, if you are just getting started, you may not have a professional home office setup yet. If you are short on space and scrambling for home office design ideas that don't involve your kitchen table, consider this: your garage probably has a lot of unused space.
If the word "garage" brings to mind a dark, dungeon-like space littered with abandoned yard supplies, it's time to rethink your space. The garage is just another area of your house – one that is rarely used, but full of untapped potential.
Still skeptical about renovating a garage into a room? Here are 6 misconceptions about garage-based home offices that are probably going through your mind right now:
No Dedicated Space – "When they're not being used for car storage, garages are just big open rooms filled with junk, right?"
True, your garage is probably one large open space, but who says it has to stay that way? Use partitions to enclose the perfect amount of space for your dream office. Relocate any items not related to your work. You can design a shed to take the place of your converted garage, or you can reorganize the clutter with built-in wall shelves. Either way will work as long as non-work related items are not visible from your office.
Extreme Cold/Heat – "The garage isn't connected to the air conditioning system. Won't I freeze in winter and boil in summer?"
If you're serious about setting up a home office, you should consider hiring a contractor who can help finish your garage with insulation and additional wiring for an air conditioning system. However, if that's not a possibility right now, don't fret, a good fan and an electric space heater will keep you comfortable year-round.
Dirty Floor – "The garage floor is dirty and oil-stained. Won't it ruin my furniture? Is converting a garage into an office space a good idea?"
This is an easy problem to address. The concrete slab of your garage is a great foundation for upgraded flooring. Tile is the easiest to install and makes for easy cleaning, but you can also explore hardwood options for a warmer touch. Top off your new flooring with assorted area rugs or outdoor carpeting.
Claustrophobic – "My garage has no windows. I'm afraid my new office will feel claustrophobic."
Again, if you're really serious about converting your garage to a home office space, you should considered hiring a contractor. Your contractor can help you install a window or a French door in your garage. A French door is an especially nice touch since it gives you a dedicated entrance to your office, which comes in handy when meeting with clients out of your home. If major renovations are not an option, it's easy enough to create the illusion of a view by hanging beautiful landscapes and natural prints on your office walls. You can also brighten your space and your mood with live office plants; just remember to open the garage door every once in a while to give them some sun.
Noise – "What if I hear cars driving by or kids playing in the street outside my garage?"
New flooring and your office wall partitions will go a long way toward absorbing any outside noise. To soundproof your home office, you can start by insulating the walls of your garage (insulation also helps your fan, heater, or air conditioning system be more efficient). Another idea is to lay out thick area rugs and hang tapestries and fabric-based wall art to absorb some of the sound.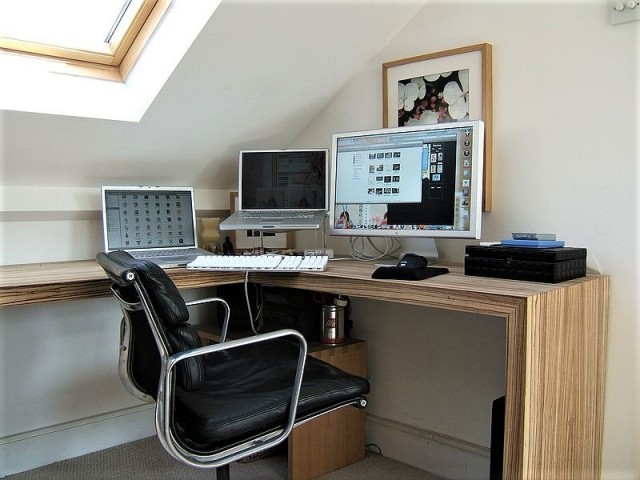 Darkness – "My garage is so dark. How can I get any work done?"
You can change the whole mood of your garage by upgrading the flooring and applying a fresh coat of paint to the walls. Bright, airy colored walls will reflect the light and brighten your space. You can add standing lamps and desk lights, but keep in mind that ultra bright lights are not the way to go. Bright lights make for stark contrast, which may put you on edge and strain your eyes. Mid-range ambient light is the best to encourage the right mix of comfort and productivity. Learn how to optimize your lighting situation with these top lighting tips for home offices.
If you are a serious telecommuter or home-based business owner, you need a dedicated home office space. If you're short on space, get creative with the unused space you do have at your disposal. Don't let misconceptions keep you from realizing your garage's true potential as a killer home office!
---
---
The post Converting a Garage into an Office Space: How Does It Work? appeared first on Home Business Magazine.