Personal Trainer Revolutionizes The At-Home Workout With Fitness Flower
By Home Business Magazine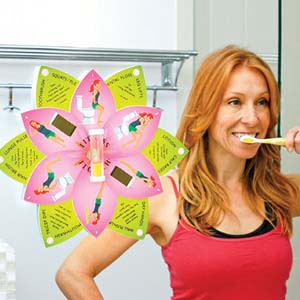 Celebrity personal trainer and Pilates instructor Estelle Shaw founded Fitness Flower after having her first child. During this hectic period, she was having trouble finding the time to fit in a trip to the gym or a regular Pilates class for herself, and she knew that she needed a new regimen. It was during the 10 minutes she spent in the bathroom each night brushing her teeth and getting ready for bed, "the most peaceful time of the day," that she had an epiphany: Why not pair this 10-minute bedtime routine with some effective exercises?
With that, Fitness Flower was born. Consisting of The Bathroom Begonia and The Office Orchid, the Fitness Flower line offers simple and effective exercises that fit seamlessly into your existing daily routine. You can do the exercises while doing other daily activities like watching your favorite TV show! Fitness Flower exemplifies Estelle's personal philosophy: Fitness and wellness is a frame of mind — instead of thinking about getting fit as just a scheduled hour at the end of your day, be conscious of your desire to be active and healthy throughout your day.
Estelle describes her business as a "one-woman band" in which she is the "conductor." "I've developed a network of amazingly talented designers, developers, consultants, and service providers that have helped me bring the ideas in my head to products I can hold," Estelle shares. Before starting Fitness Flower, Estelle was involved in many creative pursuits, ranging from professional ballet to teaching dance at theater schools.
Fitness Flower's primary customers are busy moms and working women between the ages of 25-50, and Estelle has a "three-fold" strategy in marketing to this demographic. "I hired a wonderful public relations company called Hollywood Connections PR which really understands and works well with start-up," Estelle shares. She also offers free fitness programs and tips online via social media. Estelle has also contracted with an outside sales rep who brings Fitness Flower to trade shows.
Working from home offers Estelle the "flexibility to be available to my children while running a company," as well as monetary advantages like not having to pay rent on an outside office. Her three-year goal is for Fitness Flower to be a household name. "My goal is to help everyone get strong, flexible, and fit," Estelle says. "Technically, without even leaving their homes." Visit http://www.fitnessflower.com/. HBM