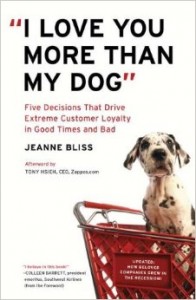 By Jeanne Bliss
Consumers now more than ever are carefully considering how they spend every dollar. At the same time, social media that gives buyers a public forum for their thoughts and experiences is enjoying a meteoric rise. Together, they've created a completely new business culture, one where businesses need not just loyal buyers, but passionate fans.
Only an elite few businesses have these true advocates.  Jeanne Bliss's new book,  "I LOVE YOU MORE THAN MY DOG" Five Decisions That Drive Extreme Customer Loyalty in Good Times and Bad, is a primer for companies ready to do more than pay lip service to customer service but truly transform themselves to serve those who buy.  Bliss's advice is laced with examples from real life companies which enjoy almost cult-like status among their customers.
According to Bliss, beloved companies share a set of five active and purposeful decisions which inform and motive their conduct.  When followed, these decisions take companies on a journey that creates a seismic shift from mere business to beloved company:
·    Decide to Believe
·    Decide with Clarity of Purpose
·    Decide to be Real
·    Decide to Be There
·    Decide to Say Sorry
For more information, visit http://customerbliss.com. HBM
The post Five Decisions That Drive Extreme Customer Loyalty appeared first on Home Business Magazine.