Eliminating a Frustration Shared with Other Parents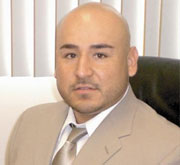 By Home Business Magazine
Marcos Alvaro, formerly an owner of Mortgage Loan Company in Santa Maria, California, came up with the inspiration for a kid's deodorant after he had witnessed his nephews using an adult deodorant at the ages of 7 and 9 years old. He thought it was a bit odd that the boys were using an adult formula and not a kid's deodorant.
So, Marcos began to search the web for a kid's deodorant and wasn't able to find the product anywhere though he found many parents online who were ironically searching for that very thing. That's when the light bulb went off in his head, and Marcos mentioned the concept to his friend, Steven Todorovic, formerly an owner of a Mortgage loan firm in Santa Barbara, California.
Steven immediately felt there was a definite need for a kid's deodorant, because he had just months earlier purchased a teen deodorant for his daughter who was nine years old at the time after debating the topic with his wife Teri Todorovic, a Cardiac Nurse. Teri, who has a family history of Alzheimer's disease, was worried about the aluminum contained in antiperspirants and did not want her daughter to come in contact with these harsh chemicals. Steven felt that other parents must be sharing this same frustration, and that's when the team decided to take action.
Marcos and Steven developed an innovative line of safe deodorant just for kids called Junior Varsity Naturals™. After a lot more research, they realized how many potentially dangerous chemicals were contained in mainstream deodorants and set out to create the first natural, gender specific kid's deodorant, with only safe and natural ingredients. With research and help from a laboratory, the dynamic duo finally made their dream turn reality. With online sales and using search engine optimization, they have spent very little on marketing, advertising, and PR.
The best part about running their business in the home is Marcos and Steven started with under $5,000 and are able to keep their fixed costs low because they don't have to pay overhead at a large office. They cite a poll that states 50% of kids ages 7 to 11 years old use deodorant. Visit  www.jvnaturals.com. HBM
The post Home-Based Duo Create a Kid's Deodorant With Natural Ingredients appeared first on Home Business Magazine.