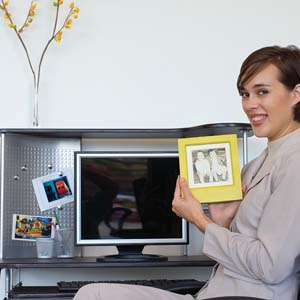 By Herman Chan
Working from home has been a wonderful way for mothers to spend time at home while launching their careers. With the advent of technology, mobile, and the Internet, plenty of companies now offer the option of telecommuting full-time or part-time. Independent contractor mothers often set up shop at their homes as well. It is amazing what you can accomplish with just a wireless connection and a laptop now days. But let's face it. A home office is not what it is cracked up to be. Here are some solutions to common home office problems for the working mothers out there.
1. Maintain Boundaries: You set up your office at home as your very own private work space. Your hubby built you a desk and even got you a fancy name plate for your door. This is the one room in the whole entire house devoted to you and your career. It's "mommy only" zone, right? Well that's the intention, anyways. Because inevitably your little ones wander in and leave their toys thrown all over. Your husband leaves his half empty beer can over your paperwork when he checks his email. Before you know it, mommy zone has become the family room annex!  You have got to draw the line somewhere. Let your family know to respect this room as your office. You owe it to yourself and your career to have the space to develop your job without distraction. If it means a no entry rule, then so be it.
2. Stay Grounded: Just because you set boundaries does not mean you have to be all business. It is fine to decorate your home office with mementos to remind yourself why you are working so hard. A picture of your honeymoon. Your son's first soccer game. What's your motivation? A small elegantly framed photo will suffice. A discreet vision board of your goals is alright. But don't get crazy. Adorning your entire office wall with all your kids' arts and crafts projects is not staying grounded; it's getting distracted!
3. Dress the Part: One of the biggest benefits of working from home is dressing casual. You are not hopping from meeting to meeting, interfacing with board members. You are at home clicking away on your iPad with curlers in your hair, pink bathrobe, and fuzzy slippers. Ahh, life is good. But be warned. That casual attitude towards attire can easily seep into work. There is just something ritualistic about donning your armor and getting into work mode. You just are more productive when you dress the part. No one is saying you have to sport your Joan Collins line backer shoulder pads to do battle in the workforce in your little cozy home office. Take off the apron, and throw on a blazer over your mom jeans.
4. Be Video Friendly: Keeping in line with appearances, it's not just what you dress like but how you decorate. Its not uncommon now for clients to request virtual meetings. When a new prospect all of a sudden asks, "Can we hop on Google hangouts right now?", don't be caught off guard. Not everyone will require it, but people expect to have the option to interact with you over Facetime, G-chat, and Skype —especially Millenials and clients overseas. You don't want to appear to be a dinosaur, and respond with "Um, I don't really do The Facebook. Can we just chit chat on the phone?" So be prepared in appropriate attire. Or keep a professional blazer in your home office you can quickly don for those last minute video conference meetings.
5. Have One Lux Piece: You are stuck in your office, albeit at home, all day, working and slaving away, staring at the same wall and some bland office furniture you got at a garage sale. It can get dreary. Spending all those hours in the same spot, it would behoove you to splurge on one luxury piece. It could be a fabulous antique desk, or some trendy mid-century drop chandelier, or even some custom ink pens.  It's nice to have that one item in your humdrum work day that you can look to, which makes you feel good, elevates your space, and also wows clients when they visit.
6. Get Dual Purpose Furniture: Some of us may not have the luxury of having a separate room to dedicate as a home office. Especially in urban dense cities, extra space is rare. The guest room/office combo is the most popular set up. However, what ends up happening is that when guests come, they are engulfed in your files and paperwork. Or you have filled the room with office and guest room furniture, and it's totally cramped — not the most hospitable reception for your friends and family. In this case, the best solution is dual purpose furniture. There are built-in shelves that look great alone, but have a hidden desk that pulls out when you need to work. Or get a hutch desk that has a cover that you can pull down and hide your stuff, while guests stay. Instead of a bed that takes up half the room, invest in a daybed couch or fold out sofa that fits into your office decor but also is comfy when guests stay overnight. Ottomans are also a fabulous way to add some accent pieces, and some double as storage!
7. Go Mobile: Even though this article is about the home office, it is not possible to spend each moment there. It is inevitable that you will need to conduct business while you are not home. In the past, it was perfectly acceptable to respond in a day or two, but in this instant gratification culture we live in, not getting back to a customer in a timely manner could mean ruffling his feathers, losing that deal, or even losing that client altogether.  Leaving to pick up the kids from school, dropping them off at piano lessons and soccer practice, getting groceries, etc may seem like little errands here and there, but they add up. They take time out of your workday when clients may expect you to be "on." So, ensure you are armed with a smartphone and/or ipad at when you leave the house.  Sync up all your calendars and files to a cloud service such as Dropbox.com, Box.net, Google Drive, so you can conduct business even when you are not in your home office.
8. Hire an Intern: The reason why lots of moms gravitate towards working from home is the flexibility. You can set up your own schedule, and you are autonomous over your time. But, like many moms, with the kids and spouse pulling at your every limb, it's easy to put your work time at the top of the priority list. After you've taken care of everyone else, the day is over and you haven't accomplished a single thing in your home office! One way to mitigate this is to hire an intern. If you know that someone is depending on you to delegate tasks to them, someone who is going to clock in and clock out, you will be forced to make time for that person in your home office.
9. Network: Now that you've got your fancy home office all decked out, you might find you never want to leave. But working from home over time can get isolating. We are social creatures by nature and as convenient as working at home can be, we yearn for social interaction (and a client video conference does not count). If you find yourself overly chatting with your intern, stop it! It's time to network. Find fellow working mothers who are in the same position as you. There are Facebook groups, online forums, and cyber communities where parents working at home can collaborate and at times commiserate. These are also fantastic networking opportunities. People tend to do business with those who mirror them. You've got the mommy angle and the "working at home" angle under your belt. HBM
Real Estate & Design with a Punchline! In his videoblog Habitat for Hermanity, Herman Chan pokes fun of the real estate business all the while empowering buyers and sellers with behind-the-scene tips and secrets of the industry!  Realtor Magazine didn't christen Herman as the Internet Sensation Videoblogger for nothing. With his trademark helpful hilarious flair, Herman offers a glimpse beyond the glitz and glam of real estate and design. Labeled by Inman News and Sold Magazine as "The Real Estate Celebrity and Expert," Herman's glittering personality has been featured on countless media outlets like HGTV,  House Hunters, Yahoo, KGO,  My House is Worth What, MSNBC, Money Magazine, MTV's Downelink , Logo, CBS, KOFY-TV, LA Talk Radio, ComcastTV, World Journal, GlobeSt.com, Epoch Times and the real estate documentary Moving Up, Moving Out.  You can catch him as the Design Expert for the San Francisco Chronicle, the Money & Living Expert for MTV's NewNowNext, as well as the host for eHow's Home & Garden Real Estate. Follow Herman on Twitter: @Hermanity. www.habitatforhermanity.com
The post Home Office Advice for Working Mothers appeared first on Home Business Magazine.