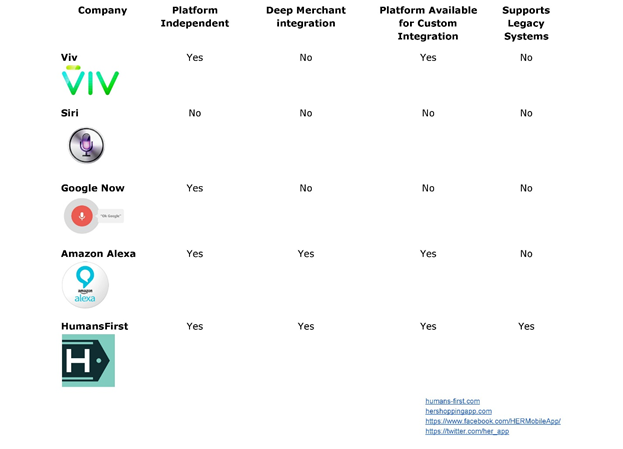 HumansFirst Technology, a leader in natural language mapping has released a platform comparison chart outlining the differences between the major players in natural language technology.
Gregory Goehner, Co-Founder commented, "Our HumansFirst talk and touch technology allows users today to search, shop and pay on their favorite sites by simply speaking (or typing) a command.
Unlike Siri, Google, Cortana, Viv and others, HumansFirst allows you to hear your movie listings AND buy the tickets or search for your favorite Nike shoes AND buy them.
The HumansFirst "ColdSmoke" SDK is available today for custom integration to etailers as a solution to shopping cart abandonment."
About HumansFirst Technology and the HER Shopping App
ColdSmoke™ is a patent pending SaaS platform for mapping natural language to web services APIs. Built on Natural Language Processing (NLP) technology, HumansFirst has created the ColdSmoke™ platform and has made available a Software Developer Kit (SDK) to quickly bring new NLP-based apps to market.
Our co-founders hold 18 patents in biometrics, wireless payment technologies and have clearance with the National Security Agency. In short, our technology enables your voice to the Internet of Things.
Retailers and technology partners are encouraged to visit http://humans-first.com/
Just talk to search, shop, book and buy with HER® HumansFirst app on iTunes or Google Play. "Buy Nike shoes", "Use my Amazon login", "Find a hotel in New York City" or "PayPal it". The HumansFirst app is linked to more than 70 of your favorite sites, including Amazon, Expedia, Fandango, Macy's, Nordstrom, Starbucks, Target, Ticketmaster, Walmart, Zappos.
Learn more about the HER® shopping app at http://www.hershoppingapp.com/
The post HumansFirst Technology Versus Viv, Siri, Google Now and the World of Natural Language Technology appeared first on Home Business Magazine.