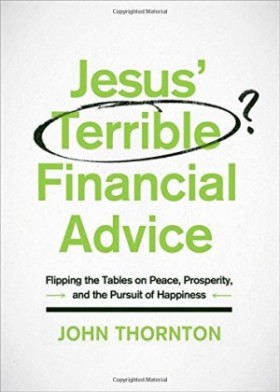 Jesus' Terrible Financial Advice turns even conventional Christian wisdom on its head. While it answers many of the practical questions we have—like does Jesus want me to be rich or poor? Should I give to everybody who asks? Is it wrong to save?—it goes beyond these concerns.
---
---
After extensive biblical research on over 1,300 verses referencing money, and over 20 years' experience as a CPA and accountant, John Thornton discovered that if we follow Jesus' terrible ("shocking/unsettling") financial advice we will discover what money can't buy: purpose. Thornton and his wife—both financial experts—had cut their income by 80% to pursue more meaningful lives. Within six years, they had two kids, were debt-free, went on several vacations, and doubled their net worth.
Jesus uses financial principles to increase our faith.
A Tale of Two Masters: Money, as an idol, steals God's glory. We cannot love and fear them both. We must choose who we will serve and who gets the glory. Money's only power is imitation. ("No man can serve two masters…" Matt. 6:24)
For Richer or Poorer: Wealth is a gift from God. A rich person's wealth may numb their need for God, while a poor person's poverty may drive them to God. Whether we are rich or poor – God desires us. It's all about his goodness and will, not ours. (Mark 10:25)
Just Money: Do not envy the arrogant when you see their prosperity. God recognizes the thoughts and intent of the heart. God calls us to do what is right, and leave the justice to Him. We should desire wisdom over wealth. Prosperity comes with tremendous responsibility (Matt. 25:29).
The Giving Paradox: It is impossible to love without giving. Be careful how you give because great giving is not necessarily great loving. When we give we come to know God better, it sets us free from money as a master, and it enriches us (Luke 6:30).
Jesus' Terrible Financial Advice is available for purchase on Amazon.
The post Jesus' Terrible Financial Advice appeared first on Home Business Magazine.