"$urviving Your Business Debt"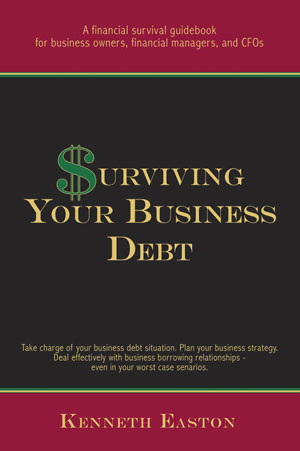 By Kenneth Easton
Are tough times ahead for business borrowers? You can bet on it – and it's not going to get any easier. The timing is right – business borrowers must now take charge of their credit and debt future.
Kenneth Easton's book, $urviving Your Business Debt, enables all business borrowers to launch immediate and effective financial survival strategies. Whether currently in serious financial trouble or with such possibilities lurking on the horizon, $urviving Your Business Debt can help borrowers to recognize, understand and cope with difficult debt situations which may seem insurmountable.
In $urviving Your Business Debt, Easton's methods teach businesses to be financial survivors by recognizing borrowing danger signals and initiating immediate remedial actions. Easton provides specialized borrowing techniques and strategies, daily action tactics, and guidance in approaching lenders from a position of strength that he has personally learned through years in the "trenches" of small business finance as well as the "ivory towers" of commercial finance companies and major banks.
$urviving Your Business Debt enables borrowers to employ strategies and tactics which may save their businesses, their fortunes and their peace of mind. Visit www.SurvivingYourBusinessDebt.com. HBM
The post Launch Immediate and Effective Financial Survival Strategies appeared first on Home Business Magazine.