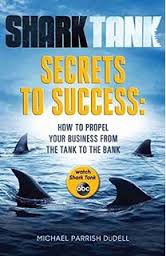 Shark Tank: Secrets to Success: How to Propel Your Business from the Tank to the Bank
By Michael Parrish DuDell
ABC's hit show "Shark Tank" has a new book, Shark Tank: Secrets to Success: How to Propel Your Business from the Tank to the Bank (Kingswell; Paperback original; $14.99 US/$16.50 CAN; Ages 18 and up ISBN: 9781484723258/eBook: 9781484777794). The critically acclaimed Emmy Award winning reality series has reinvigorated entrepreneurship in America, inspiring count- less fans to build and grow the company of their dreams. But it takes more than landing a deal with a Shark to turn a fledgling company into a national brand.
---
---
In his second book for the show, author and entrepreneur Michael Parrish DuDell (Shark Tank Jump Start Your Business) goes behind-the-scenes to reveal the untold stories of some of the most memorable and notable companies from the show.
Discover how Wicked Good Cupcakes grew a small, local bakery into a multimillion-dollar organization. Find out how Tipsy Elves used a popular search engine to build an influential community of passionate consumers. And learn how Grace and Lace turned a simple product into a powerful vehicle for social change. Learn fascinating details and "where are they now" fun facts about these companies and many other entrepreneurs featured on Shark Tank.
From practical business tips to unforgettable anecdotes and experiences, Shark Tank Secrets to Success provides readers with a playbook for success custom designed by some of Shark Tank's most successful entrepreneurs. It's the perfect guide for ambitious businessmen and women who want to start and grow a thriving company. HBM
—-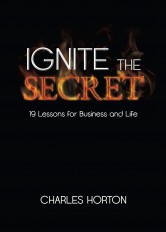 Ignite the Secret: 19 Lessons for Business and Life
By Charles Horton Delivers
For many people, graduating from high school or college is the first step before facing new and unfamiliar challenges in life—personal, professional or academic. The hardest part about changing your life is knowing how to start. Ignite the Secret: 19 Lessons for Business and Life (Brown Books Publishing Group) by Charles Horton equips grads with tools that will empower them to take that first step—and all the steps that follow.
Successful entrepreneur, CEO, life coach and now, debut author Horton is the owner of the Firewalking Institute of Research and Education (F.I.R.E.) and a certified master firewalk instructor — one of only nine in the world. He travels the world helping people transform their reality and realize their dreams. "It's what makes me happiest. I love helping others," he says. "I'm really passionate about nurturing that transformation and seeing people succeed." Now, Horton has condensed 19 of the most valuable lessons he has learned in his own personal and professional life into a small, compact book. For more information on Charles Horton's Ignite the Secret, Attain any Goals seminars and international firewalking certification programs, visit www.IgnitetheSecret.com and www.firewalking.com. HBM
 —-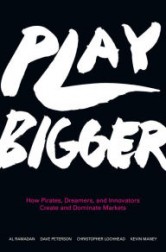 PLAY BIGGER: How Pirates, Dreamers, and Innovators Create and Dominate Markets
By Al Ramadan, Dave Peterson, Christopher Lochhead, and Kevin Maney
How did companies such as Uber, Salesforce, 5-Hour Energy, Netflix, and IKEA dominate their markets while the competition never came close? Each created and designed an entirely new category of business. Why did Microsoft fail to win much market share for Zune, Windows Mobile and Bing, despite spending billions? Because it's virtually impossible to unseat a category leader. How do you spot a company that's going to be an enduring and valuable category king? Look at timing. In a remarkable finding based on data analysis, category winners that go public six to 10 years after founding create the greatest long term value. (And, in a related finding, the long-term value of a startup has zero correlation to the amount of money the company raises while private.)
PLAY BIGGER: How Pirates, Dreamers, and Innovators Create and Dominate Markets (Harper Business/ June 14th) reveals how entrepreneurs can accelerate their companies and debilitate competitors by embracing the new strategy of category design. With this discipline, entrepreneurs can create and develop a new market category, and condition the market so it will demand your solution and crown your company as its category king. That's how explosive and enduring category kings like Amazon.com, Facebook and Google took most of the profits from the categories they defined. The authors researched thousands of U.S. venture capital–backed tech start-ups founded from 2000 to 2015, and found that category kings earned a whopping 76 percent of the market capitalization of their entire categories. HBM
The post Launch Your Business to Greater Success with Key Books appeared first on Home Business Magazine.