Entrepreneur Helps People Realize Their Dreams Of Working With Animals
By Home Business Magazine
Steven Appelbaum always knew that dogs were his passion in life and that someday he would devote his career to working with them. He never imagined that he would develop not only one, but two successful animal industry businesses from scratch!
Steven began his journey to become a seasoned dog training expert when he enlisted in the U.S. Air Force in 1977 and worked as a Security Specialist and Patrol Dog Handler and trainer.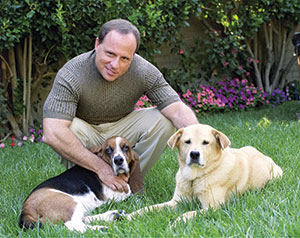 In 1981, after his stint in the service, he enrolled at the Animal Trainers Career Academy where he learned to train dogs for motion pictures. Steven proudly graduated at the top of his class and formed his first company, Animal Behavior and Training Associates (ABTA) in 1983.
Steven realized that pet chains in the 1980s were changing to capture a significant piece of the retail market share. This meant that his early affiliation with Petco perfectly positioned his small company for further growth.
By 1994, ABTA was the exclusive provider of dog obedience classes for the entire chain of Petco stores, as well as Petcetera stores in Canada. This made ABTA an international success and the largest dog training company in North America. At its peak, the company employed over 550 dog trainers in 44 states.
With an increasing necessity to hire professional trainers, Steven discovered that a startling 70% of them were failing ABTA's basic training exams. The need for a structured dog training education had become essential.
In 1998, Steven's unique combination of expertise and entrepreneurial vision led him to create his second successful business, Animal Behavior College (ABC). The school's first program was for professional dog trainers. Success there allowed them to expand to also offer courses for veterinary assistants and pet groomers. Today, ABC is the largest animal career vocational school of its kind in North America. The program design combines an in-home study curriculum with hands-on externship training.
Steven says, "With an estimated 70 million dogs and 87 million cats the United States, our students have enormous opportunities to make a difference in the lives of animals and the people who love them, and I'm very proud of that!" HBM
Steven Appelbaum is an avid Basset Hound lover and is a published author, lecturer, and animal podcast co-host. For more information please visit: www.animalbehaviorcollege.com/info or call 888-600-7220.
V20-1 Add:3/13 HP:
The post Lending a Paw appeared first on Home Business Magazine.