For centuries, silk has been the secret weapon behind getting flawless beauty sleep. Branché Beauty has cleverly taken silk's magical properties to create top quality sleeping products that hydrate skin, gain collagen production and keep hair healthy and soft. Perfect for the beauties that love the finer things in life, now women and men can pamper themselves with the luxurious caress of Branché Beauty. Those lucky enough to receive the gift of sleep will enjoy a long slumber and will feel rejuvenated the next morning.
---
---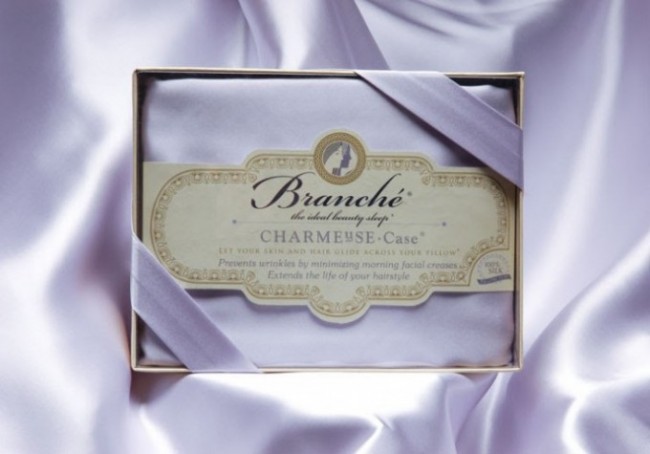 Branché Beauty Sleep's Charmeuse Case –Switching from a cotton pillowcase to one made of silk is a beauty tip that feels amazingly luxurious, and saves you time and money! Soft and lustrous, this pillowcase is designed to prevent wrinkles by minimizing morning facials, and helps to boost skin hydration. It can also reduce hair loss, breakage and help your hair retain moisture, body and shine. And let's you wake up with your hairstyle in place, so you can enjoy your style longer, eliminating the need for tedious and damaging daily styling… It's like giving someone an extra 30-40 minutes to their mornings! This product is hypoallergenic and can also relieve associated skin conditions.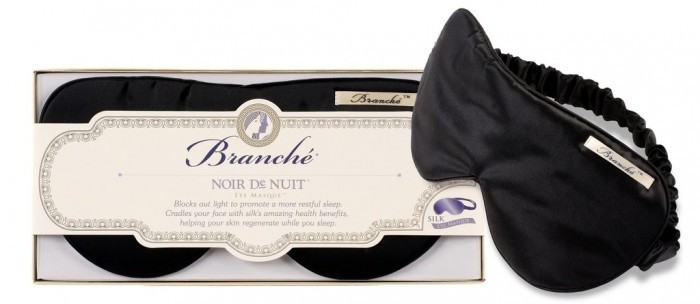 Branché Beauty Sleep's Belle and Noir De Nuit Eye Masque – Pamper your face and the lavish caress of high quality silk.
Guaranteed to improve sleep, this luxurious eye mask blocks out external lights so you can unwind in a tranquil environment. Made out of the same amino acids that your skin uses to repair and rebuild itself, Belle Du Nuit Eye Masque helps skin stay healthy and moisturized.
Branché Beauty Sleep products are found in some of the world's finest hotels and spas such as the Ritz Carlton, Sun Valley Resort & Spa, Pish Posh Patchouli's and Anthropologie.
For more information and to find all of Branché Beauty Sleep's products, go to: branchebeautysleep.com.
About Branché Beauty Sleep:
The creator, Donna Hinds discovered a love of textiles when she was a young girl playing on horses in Hannibal, Missouri. She created her own line of women's fashion in 1989, with a focus on taking care of the environment. She was a trailblazer among designers as she focused on an organic lifestyle and energetic healing. She is fully aware of how colors and fabrics can heal and help body's recover. From fashion using various materials, her business evolved to a greater focus on silk and sleep. She created a vintage pillow slip for her own use and realized it kept her hair (even her face!) fresh in the morning. Waking up with ready-to-wear hair, cut her morning routine, freeing up valuable time, and she no longer woke with creases on her face. She knew other women would enjoy the same benefits. Utilizing her extensive knowledge of textiles, she developed a superior charmeuse that could withstand the wear of everyday use. The rest is a whirlwind wrapped up in high-quality, intricately woven fabric, as her brand weaves its way across the world!
The post Pamper Your Loved Ones With A Gift From Branché Beauty appeared first on Home Business Magazine.