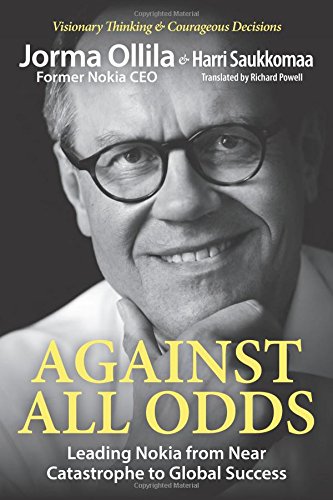 By Jorma Ollila and Harri Saukkommaa
When I became the finance director [of Nokia] I decided to change things. I wanted the people in my department to value their work, and I wanted the best possible people to come and work there. And later I tried to help them take their careers forward, at Nokia and in the world beyond. At Citibank I had managed a few groups of finance specialists. Before that I had had no leadership experience to speak of. The finance department was my first real managerial position: twenty-five people answered to me. After my time in Nokia's finance department I was in charge of 2,000 people. And six years after that I was responsible for 50,000.
Leadership is largely a matter of communication, and the methods and channels one uses depend very much on the number of people you're managing. If you have lots of subordinates you have to consider how you can be certain of getting your message across to the whole organization. In the finance department I could tell everyone directly what was on my mind, and they could give me feedback directly. You can't do that with 50,000 people. So communication must be clear and carefully planned. This is the CEO's most important task: communication, communication, communication. The second important task is personnel policy: the CEO is always a company's most senior personnel manager. These two matters cannot be delegated to anyone.
It was with these two matters that I wanted to begin as Nokia's finance director. I explained to people that much would be expected from them, but also that good results would be rewarded. I put new people in new positions. Many of my appointments came as a surprise and caused a great deal of discussion within the company. I began to spring these surprises in Nokia's finance department, then in Nokia Mobile Phones, and I have followed the same policy as head of Nokia.
I enjoyed both the surprises and the discussion they caused. I seriously believe that an organization needs a regular shake-up in order to stay fresh and lively. One should give lots of responsibility and power to good people, perhaps three times more than they could imagine in their wildest dreams.
People who are trying their best shouldn't be punished for the odd mistake, but they must learn from every mistake they make. Every failure or error is a formidable packet of information that the company should be able to profit from. Not everyone is fond of my habit of regularly turning the organization upside down. For me, though, it's an instrument of leadership. It offers a means for as many people as possible to use as many of their skills as possible, and to learn many new ones. New tasks should be genuinely new. Individuals' learning processes enrich the whole company, but they enrich the individuals themselves even more.
I didn't know all this when I became finance director. Much of it I learned only much later. I have also sometimes made mistakes when recruiting people and appointing them to new positions, but I've tried to learn from that. In the finance department I wanted to extract from people as much energy for Nokia as I could. Because we needed to save money I couldn't take on many new people, but I concocted other ways of making us more effective. I decided to offer everyone in the department a home computer, paid for by the firm. In this way we were no longer tied to normal working hours. Parents who wanted to leave early to look after their children could work later at home. In those days the concept of remote working had hardly been invented, so our department was truly ahead of its time.
I started to transform Nokia's financial management in other respects. Together with my fellow director Kari Haavisto, I persuaded Nokia to adopt international accounting standards – the IAS. At that time this was an object of wonder, and we frequently found ourselves justifying it to our colleagues. We had agreed that, from that moment, Nokia would really be an international company. We had to comply with international accounting standards if international investors were to read our accounts and compare them with those of other firms. The old guard had a fit of the horrors, but Kari Kairamo was enthusiastic about it. By some inexplicable instinct he always chose the international alternative, if one was open to Nokia.
I have never had any time for conservative people. They dwell in the bureaucracies and on the boards of many a major enterprise. They believe that every little change threatens the entire heritage of the firm or, perhaps more to the point, their own desire for a comfortable life. Indeed, they often organize things so that the company serves them rather better than they serve it. Meeting such people can easily throw me into a rage. They simply can't comprehend that if the company does something new, it learns something new as well. After that every new thing becomes a little easier. Every company has its share of these intransigent people who do all they can to prevent every change or reform. But by adopting the international accounting standards Nokia moved up a league and also learned to think in a new way.
I set other reforms in motion, which rapidly brought financial results. Nokia's old system had channeled money to all the banks Nokia dealt with. As a former banker I decided to make the banks compete for our custom and so save money for Nokia. We created a system of strict financial controls whereby the different parts of the company had to take instructions from the head office. In this way we prevented Nokia from repeating the foreign exchange losses it had suffered in the early 1980s, when the dollar collapsed.
We established a finance company in Geneva whose function was to control all Nokia cash streams. This was a new idea that reduced the power of Nokia's business units but also made things simpler. It was just the sort of idea worth pushing forward when reorganizing a company. So of course it too met with vigorous opposition. The business units thought that Nokia's head office was grabbing power – they would no longer be able to lend or invest their own money freely. But it was exactly this freedom that had cost Nokia so dearly in payments to its bankers. I wanted to restrict that freedom and keep the money for Nokia. We thought our plans through very thoroughly, again with Kari Kairamo's support, before we moved the entire company's financial management to Geneva.
At the same time we focused our banking relationships on our main bankers, and we adopted the net principle: the net effect of each foreign exchange transaction was taken into account. In this way we no longer had to pay the banks interest on accounts that were in the red if on the same day another account was in the black. All Nokia's cash transactions were simplified and focused. In the finance department we were building a new Nokia: international, well-run, clear in its reports to international investors.
New ways of doing things call for new people to do them. I churned through staff in the finance department rather fast because I wanted the most talented people. Little by little I succeeded in my goal. When Olli-Pekka Kallasvuo came to us, other stars were not far behind. I wanted "my" stars to continue their trajectory way beyond my department. When I was transferred to a new job at Nokia, Olli-Pekka was promoted to be finance director. The role fitted him like a glove.
I constantly preached to people in the finance department about lifelong learning, new challenges, and new opportunities in Nokia. Pii Kotilainen was an excellent example. She had joined us a couple of years earlier, when she was about twenty-five years old, to work as a corporate dealer. Rather grandiosely I called her cubicle our dealing room. There might have been a couple of people working with her. But it was our nerve center, where we learned the business of the money markets. For me it was an important place because of my background in banking. I had learned to follow the markets, and I got energy from their rapid movement. I would disturb the work of the corporate dealers by phoning them and asking questions, which they would painfully attempt to answer. Pii was one of them; she told me later that I always rang when she was least ready to respond to anything.
When Pii had worked eight years in the finance department I summoned her to the CEO's office. She must have thought that Nokia's foreign exchange positions had collapsed, that her trades had failed, or that the final reckoning was due for some other reason. She couldn't have been more wrong. When she sat down on the dark brown sofa I asked her how much longer she intended to spend in the finance department. I proposed that she might become the head of training for the whole of Nokia. Her look of amazement was truly worth seeing. She didn't have a single day's experience of personnel matters, but she was a brilliant example of the ability to learn new things. She was one of many who moved from the finance department to other work and new challenges. That was my goal, and I was happy when I could achieve my goals.
Jorma Ollila became the pre-eminent European businessman of his generation during his time as Nokia's CEO from 1992 to 2006.
Harri Saukkomaa is chairman and founder of the public relations firm Tekir.
Excerpted from Against All Odds: Leading Nokia from Near Catastrophe to Global Success, Maven House Press, 2016.
The post Preparing to Lead appeared first on Home Business Magazine.