Mompreneur Formulates a Product Line to Bond with Her Son Who Has Autism
By Home Business Magazine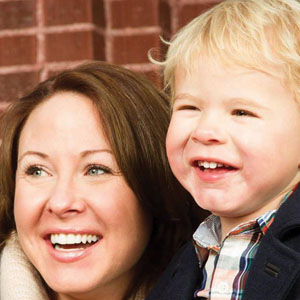 Kelly Johnson (pictured with son, Parker) is the founder and CEO of Parker Time Potions pediatric massage oils.
When mompreneur Kelly Johnson noticed that her toddler son, Parker, was developing at a "delayed" rate, she wanted to bond with him and experience the joy of development and progress. Kelly discovered that massage was the best way for her and her son to bond when "normal" avenues of bonding were not available, so she formulated her own line of all-natural Parker Time Potions pediatric massage oils. Her son was since diagnosed with autism, and Parker Time now also serves as a vehicle to fund autism research by donating some of its proceeds to autism-related causes.
Parker Time is a specially formulated, all-natural body care line for kids that offers products with numerous moisturizing properties. All of the Parker Time Potions feature an all-natural blend of healthy sunflower oil, jojoba oil, calendula oil, and Vitamin E. Parker Time Original Potion is perfect for any time of day to help improve overall moisture for your child's skin, Parker Time Potion promotes play as well as the parent/child bond, and Parker Time Relax Potion is perfect for an after-bath massage to help a baby relax and sleep well. The entire Parker Time Potions line strengthens the bond between parent and child by providing quality products that allow the parent to focus on time with the little one.
Prior to founding and becoming CEO of Parker Time Potions, Kelly Johnson worked in non-profit management. She now manages all aspects of Parker Time Potions and utilizes online retailer sellers and word-of-mouth marketing via her strong following of loyal moms to promote to her primary customers: moms with young children. She feels that the "flexibility to be a mom" and "the ability to spend time with her son" are the main advantages of working from home.
Kelly's greatest business achievement thus far is "making it through the first year and actually owning a business that gives back to such an amazing cause." However, she has much bigger plans for the next three years. "I aspire to launch a line of baby bath wash soon, as well as greatly grow and expand the business. I would love all parents to try Parker Time Potions and discover how the products help them bond with their kiddos." HBM