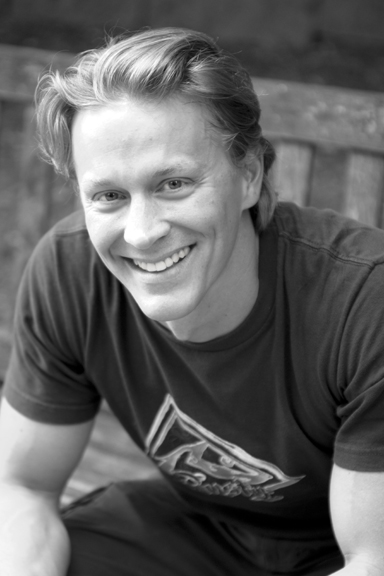 Doug Kisgen is a serial entrepreneur and organizational consultant. After having 5 kids and building multiple companies, he is now sharing his tips on success. His new book, RETHINK HAPPY: An Entrepreneur's Journey Toward Authentic Joy, teaches readers how to turn their lives around in every way.
HBM: Let's start off with your background. Tell us a little about a few of the companies you've created and run. 
Kisgen: "I currently run the Kisgen Group, which works with entrepreneurs and executives to help them get what they want through the use of a short survey that validly measures seven work-related traits.
I formed my first corporation right out of college and have built several businesses since then. My former company, Daydream Senior Care, d/b/a Home Instead Senior Care, was a two-time Inc. 5000 fastest-growing company when I sold it."
HBM: Running a company is filled with challenges.  What advice can you give for dealing with hardships?
Kisgen: "Choose to make sacrifices. Bad things happen to good people, and pleasure in itself does not produce happiness. Too much of a good thing is not a good thing. Choosing to make sacrifices for another can produce great joy. Recognizing that everything that happens to us provides us a choice on how we react is important. A nail must have resistance when hammered into a wall or else it won't be able to support the picture hanging on it. The setbacks we are given provide us opportunities to grow in virtue."
HBM: Your book is called Rethink Happy: An Entrepreneur's Journey Toward Authentic Joy.  What is the difference between joy and happiness?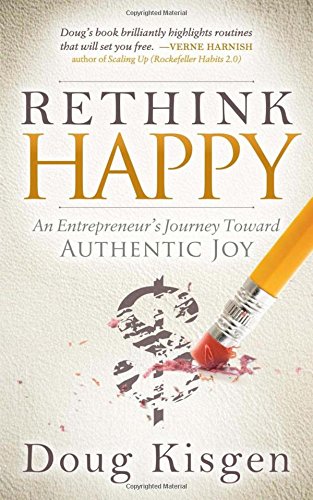 Kisgen: "I believe happiness is fleeting; more like pleasure vs. pain or mere enjoyment. I enjoyed the movie. Or I had fun at the party. Joy is lasting, more pure, virtually impenetrable and it is not opposed to suffering and sacrifice. In fact, the latter often results in more joy. This is one of the fundamental differences between Rethink Happy and most of the other popular books about happiness. Yes, it's important that life be meaningful and that we have intimate relationships and jobs that fulfill us. But if we miss that we are ultimately here to serve others, we will inevitably end up sad."
HBM: Rethink Happy came out this year.  What inspired you to write the book?
Kisgen: "I had a great job with a great salary and decided to buy a business in 2003 and move my family to a city where we didn't know anyone. I had to halve my salary twice and we ended up over $300,000 in debt. I realized success was not all about me and my ego and winning. It couldn't be, because I was losing. Since then, I have built hundreds of relationships with executives and business owners who define happiness like I did. I have come to realize that in order to experience authentic joy, some things about life need to be rethought. What is happiness? How do you balance home and work? Why do bad things happen to good people? Rethink Happy answers these questions."
HBM: In addition to building and running several companies in your career, you are married with five kids.  What advice do you have for business owners to balance work and family issues? 
Kisgen: "Begin by rethinking your priorities. Where your treasure is, there your heart will also be. But we can reverse this. Where is your heart? What is most important to you? And how much time do you devote to it? Because this tells those around you where your treasure is. Marriage takes work and effort. Same with raising children. I don't claim to be the world's best husband or father. Far from it. But I have spent countless hours reading and studying and participating in programs that help. Plus my wife and I were Family-Teachers at Boys Town in Nebraska where we lived with eight at-risk youth for several years. This helped tremendously in learning how to deal with family adversity, including how to balance work with home life.
According to a study by the Work Life Institute, 60% of adults with families are stressed out by conflict between their professional and parental roles. Company owners are among the most stressed. Theoretically, being your own boss has perks. But not when you are working 16-hour days to get a company off the ground. There's a saying that entrepreneurs are willing to work like no one else now so they can live like no one else later. But timing is everything. To do this plus raise a family is a large challenge. This is why it's so important to take a step back and rethink priorities."

HBM: How have you applied some of your book's principles on family to your own relationships with your kids?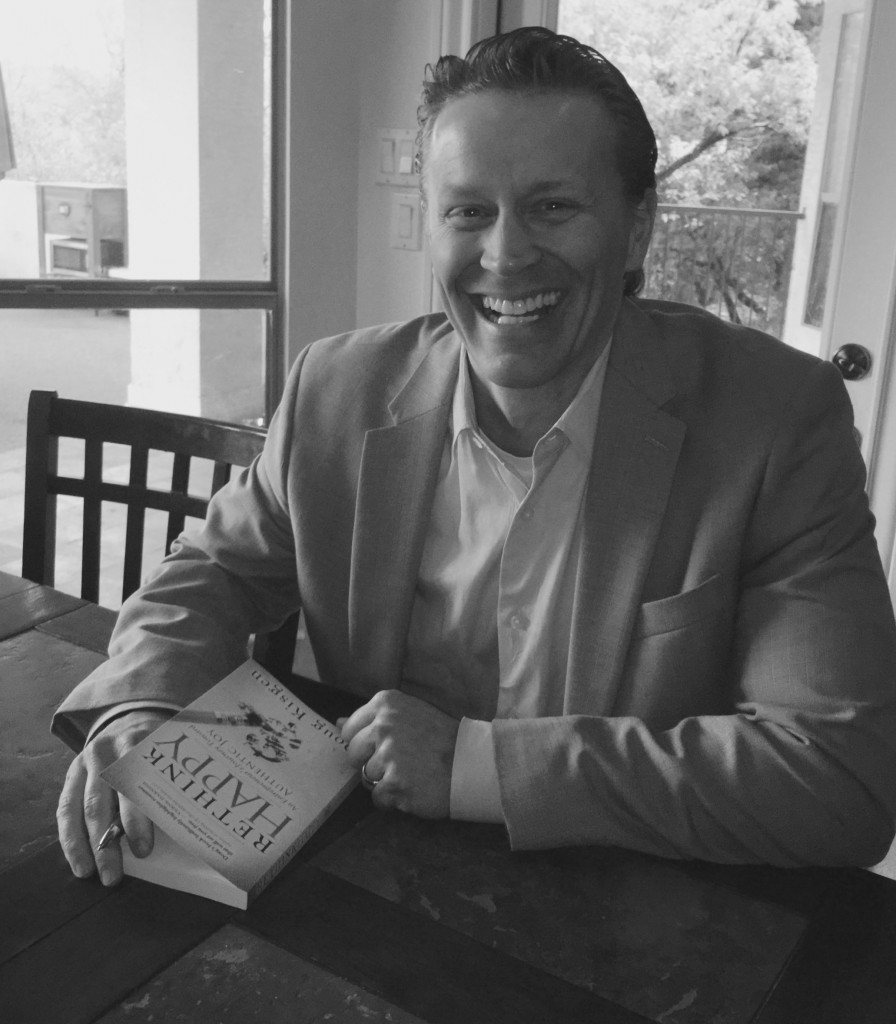 Kisgen: "If there were one simple principle I need to constantly work on that is so important it's this: quality attention. Really listening. I have a real issue with focus. My mind wanders. It communicates that I don't care, even when I actually do care very much. Now, I make it a point to engage in one-on-one conversations with all my kids. When I'm not traveling, I take my kids to school every day. I don't allow headphones or music to be played, so we can have a good conversation on the way. Of course, a discussion about deeper issues doesn't happen every time, but often it does. In fact, on a recent trip to school, we talked about presidential candidates and how to look up what they stand for in order to make an informed decision about who to support."
HBM: Your current company, Kisgen Group, helps entrepreneurs and executives reprioritize and achieve their goals.  Your approach includes taking a full assessment of what you are trying to change.  How do you go about doing that?
Kisgen: "There are a few "soft" ways to do this including asking those around us to identify strengths and weaknesses. I am generally in the strengths camp. I think it is important to work on some weaknesses, but focusing on improving strengths pays the biggest dividends. A more scientific way to assess talent is to take a valid survey. I have been a Culture Index licensee for over five years and began as a client. It's the best I have ever seen. It was built to identify work-related traits so that executives and entrepreneurs could become more effective and make better people decisions. If any of your readers fall into this category, I would like to invite them to kisgengroup.com to sign up to take our survey for free." HBM
About Doug Kisgen
Doug Kisgen is a serial entrepreneur, organizational consultant, and the published author of Rethink Happy.  He is also a licensee for a unique program called Culture Index.  His company, Kisgen Group, works with entrepreneurs and executives to help them get what they want through the use of a short survey that validly measures seven work-related traits.
His former company, Daydream Senior Care, d/b/a Home Instead Senior Care, was an Inc. 5000 fastest-growing company in both 2011 and 2012.  He sold it four years ago.
In 1991, Kisgen formed his first corporation, right out of college.  He has built several businesses while also remaining an accomplished musician, songwriter and actor.
Among his accomplishments: he served as the director of the training department for the world's largest non-medical senior care company, currently grossing one billion dollars in annual revenue.
Kisgen and his wife became certified family-teachers at Boys Town, living with eight at-risk boys and helping them achieve the highest GPAs in their community three semesters in a row.
He also served three years as the fitness director and instructor for two athletic clubs, manning 80 employees, and 5,000 members.  He developed training courses, handbooks, and leadership weekend retreats.  He was an ACE certified personal trainer for six years.
He was the host of The Fresh Kisgen Show podcast, which interviewed entrepreneurs in GO-Mode.  It earned New and Noteworthy recognition in two categories on iTunes.
Doug has been an Entrepreneurs' Organization (EO) member since 2010 and has held the positions of Launch Champion and President for EO KC as well as West Central Area Director.
Kisgen earned his Bachelor's at Creighton University.  He also has a Servant Leadership Certificate from Gonzaga University's Graduate School and recently graduated from EO's three-year Entrepreneurial Masters Program, hosted by MIT.
He has been married for over two decades and is raising five children with his wife in the hill country of San Antonio, Texas.  For more information, please consult:  www.rethinkhappy.com.
The post Rethink Happy: Why Joy is Key to Entrepreneurial Success appeared first on Home Business Magazine.