Attack Dirt in Your Home Office
Home business owners happily (and some reluctantly) launched their clocks forward an hour on March 20. Spring is here, which means more daylight to enjoy your hobbies after a solid workday of growing your venture and making sales. It also means there is more daylight to inspire a long-overdue deep cleaning of your house. A sparkling, clutter-free atmosphere will encourage greater productivity and peace of mind, allowing you to focus solely on your task at hand. It will also prevent germs from spreading sicknesses which will inhibit a healthy work/life. Here are five tips to deep cleaning your house and home office, from top cleaning franchise Two Maids & A Mop.
Defy Dust
Use a cloth to remove dust and dirt from ceiling fans and air conditioning vents, follow up with a soft nozzle vacuum attachment, if necessary.
Baseboards are magnets for dust. Use a mini-broom or even a dry paint brush to sweep baseboards. Don't forget to scoop up any hair or dust you wiped away.
Dust accumulates in creases of furniture. Flip cushions frequently and don't forget to vacuum between cushions on a regular schedule.
2. KP Duty
Clean cabinets inside, out: Remove everything from inside cabinets, vacuum shelves, drawers, removing dust and other debris. Take the time to sort through items, toss out what you don't use. Lastly, wipe down shelves, drawers, hinges, doors with a microfiber cloth. As you return items to cabinets, remember to stay organized.
Before cleaning oven, identify what kind of oven you own, self-cleaning, textured or non-self-cleaning. The type determines the type of cleaner to use. For stubborn stains in a non-self-cleaning oven you will need an oven cleaner and a brush or scrubbing pad. NEVER use abrasive cleaners, oven cleaners or scouring pads on textured ovens.
Unplug refrigerator, pull it away from the way, if possible, thoroughly clean coils, dust can collect in coils and possibly create mechanical issues. Sweep and mop area while fridge is pulled out.
3. Bathroom Breakdown
Dab a toothbrush or grout brush in cleaning product, scrub well. Tile grout is highly susceptible to bacteria growth, sealing it every 6 months is a good habit to combat grime.
Researchers at University of Arizona discovered a bathroom sink drain collects more bacteria than a toilet seat. Try frequently using disposable disinfecting wipes on the faucet to cut down on germs.
Coat shower walls and doors with a water repellent, like what you would put on a car windshield. The repellent should help water and soap scum bead up, creating less for you to eventually scrub away.
4. Floor It!
Hardwood floors require special care. Only use a cleaner suitable for the floor finish. Most newly-installed floors are surface-sealed. Avoid using too much water! Use a damp-mopping technique at all times. If a floor is not surfaced sealed, sweep or vacuum, instead of any amount of water.
Fluff up heavy traffic carpet areas by spraying stains with equal amounts of water and vinegar, wait for it to work, then blot up the stain, then fluff up the carpet fibers by swiping with the side of a spoon.
Check out care labels before deep cleaning area rugs. If no instructions are provided, test a spot on the rug with a commercial cleaner. If safe, clean the entire rug, thoroughly rinse, dry and vacuum.
5. Window Treatment
Dirt, dust and pet hair clings to blinds, drapes and curtains. Take down plastic or metal blinds, if possible, and spray down with a hose outdoors. Wood blinds cannot be washed. Wipe wooden slats with furniture cleaner after dusting.
Use a vacuum attachment to clean curtains. If really dirty, check label to see if the fabric is safe to put in a washing machine. Many curtain fabrics are dry clean only.
Try mixing up dishwasher detergent with warm water to clean windows. Keep a window squeegee and plenty of microfiber cloths nearby. Remember, you must clean windows inside and out to get a crystal clear appearance.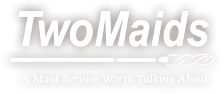 Two Maids & A Mop is a residential cleaning franchise headquartered in Birmingham, Alabama. The first location opened its doors more than 10 years ago in Pensacola, Florida and currently serves 18 markets across the United States. Two Maids & A Mop is the only house cleaning company that offers a Pay for Performance Plan to its customers.  After a cleaning, the customer rates the quality of service, the cleaners are then paid based on their performance.  CEO Ron Holt says most of the company's growth is focused on this plan.  It is not only a successful customer retention tool, but he says it is also an employee motivation tool.
Two Maids landed on Inc. Magazine's list of 10 Franchises That Swept the Nation in 2015, as well as earning a spot on Inc. Magazine's 2015 list of 5,000 fastest growing private companies in America for the third year in a row.
The post Spring Cleaning Challenge with Two Maids & A Mop appeared first on Home Business Magazine.