Mom Develops Postnatal Exercise Program into a Home Business
By Home Business Magazine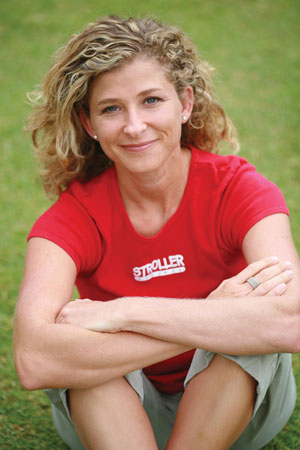 The birth of Lisa Druxman's first child brought many gifts. In addition to awakening her passion for motherhood, it also helped launch a business that would touch the lives of mothers nationwide. Druxman is founder of FIT4MOM (formerly Stroller Strides®), the country's largest and fastest-growing postnatal exercise program, offered in more than 800 locations.
Like many home-based businesses, Stroller Strides had humble beginnings. Shortly after the birth of son Jacob in 2001, Druxman, a longtime fitness enthusiast and former fitness director and manager of San Diego's top fitness club, was anxious to get back into shape, but was reticent about missing time with her son. To stay fit, she developed exercises she could do outside with her stroller and began offering small classes to other neighborhood moms. Soon enough, a small business was born.
Today, FIT4MOM is a total body workout moms can do with their babies, a stroller, exercise tubing, and the outside environment. Incorporating power walking and body toning stations using "equipment" such as park benches, the routine weaves in songs and educational elements, making classes stimulating for mother and child.
Druxman's business success is largely due to the home-based opportunity she provides. Moms can purchase a FIT4MOM franchise, offer classes in their community, and run the businesses from their homes. This allows them to have a career that is supportive of motherhood, which is Druxman's most significant business achievement to date.
For Druxman, now a mother of two, in addition to saving money on overhead, being able to make her own schedule around the needs of her family is a key benefit to owning a home-based business. And with the rise of the "virtual office," she can easily communicate with her corporate staff — all of whom are moms also working from home — through Skype, portable email, and web meetings, which add to the company's cost efficiency.
To sustain the buss for her business, Druxman employs everything from traditional PR and marketing tactics to social networking, appearances, and more. In addition to new mothers, Druxman's business is now attracting expectant moms as customers, as it recently launched a prenatal exercise program, Fit4Baby. In the next three years, Druxman anticipates more services and products and additional team members to help support her company's inevitable growth. HBM
The post Touching the Lives of Mothers Nationwide appeared first on Home Business Magazine.