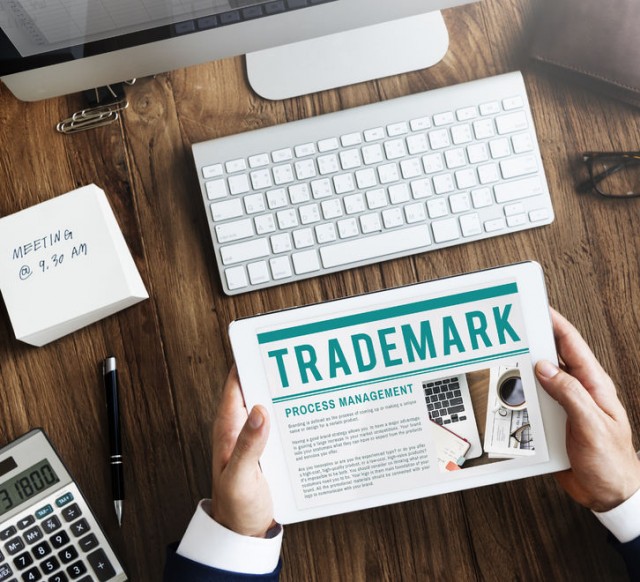 You may think trademarks are not an issue for your small business.  After all, only larger businesses can afford to own and promote brand names.
In fact, your company's name and logo are its brands, if they are being used to identify the source of the goods or services that your company offers for sale.  Since most small businesses use their company names and logos to identify the goods and services that they sell, your company may already own and use trademarks whether you realize it or not.
---
---
Or maybe, when you selected your company's name and logo, you checked the U.S. Patent & Trademark Office (USPTO) website and did an Internet search.  Based on this research, you concluded that your company's name and logo were OK to use.  While this approach is commonplace, it is simply not enough to answer the following questions:
Do your company's name and logo qualify as protectable trademarks?
Does your company's name or logo infringe upon the trademark rights of another party?
Like any valuable business asset, your company name and logo need to be properly evaluated and protected.  Your company name and logo are valuable even if you invested relatively little to develop and promote them.  Consider how much money, time and effort would be needed if you were forced to change them in response to a trademark infringement claim.
Fortunately, experienced trademark counsel can take relatively simple steps to help determine the protectability and availability of your company's name and logo as trademarks.
Do Your Company's Name And Logo Qualify As Protectable Trademarks?
When the USPTO evaluates applications to register names and logos as trademarks, it does its own availability search of existing registrations and prior-filed applications.  In addition, the USPTO reviews trademark applications for a number of other issues.  Consequently, the USPTO might refuse to register your name or logo for one or more of several reasons.
Here are some of the most common reasons for the USPTO refusing to register a name or logo as a trademark:
Likely To Create Confusion, based on the USPTO's own review of similar marks used for the same and related goods and services. The USPTO's review includes more than just "direct hits"—i.e., the same mark already being used to identify the same goods or services.
Mere Descriptiveness: For example, CREAMY as a mark for yogurt.
Deceptively Misdescriptive: For example, ACME SOLID GOLD as a mark for gold plated jewelry.
Primarily Geographically Descriptive
Primarily Geographically Deceptively Misdescriptive: For example, REAL RUSSIAN as a mark for vodka that is, in fact, not made in Russia.
Primarily Merely A Surname
Ornamentation: For example, a slogan on the front of a t-shirt that does not identify the source of the t-shirt.
A search of existing trademarks addresses only one of the issues listed above—likelihood of confusion.  It does not address the other issues considered by the USPTO that can make the difference between a mark that is protectable and one that is not.  Trademark counsel can advise on issues that are not covered by a trademark search and then order and analyze a search report if one is warranted.
Does Your Company's Name Or Logo Infringe Upon The Trademark Rights Of Another Party?
A trademark search, analyzed by trademark counsel, can help answer the following important questions:
Are there are any risks associated with a business continuing to use its existing name and logo?
Would the business benefit from applying for trademark registrations for its name and logo?
Are other parties using names or logos that infringe upon the business' trademark rights?
Trademark searches are designed to identify existing uses of names and logos that are similar (not just identical) to the name or logo being searched.  They usually are country-specific.  Trademark searches usually include state-registered and unregistered marks and are based on a review of a number of different sources.  Consequently, trademark searches are designed to be more thorough and reliable than "do it yourself" searches of trademark office records or the Internet.
Protecting Your Company Name & Logo As Trademarks
The owners of local businesses often wrongly believe they do not need a U.S. trademark registration.  However, if your company operates a website or uses social media, your company name and logo can be viewed around the world.  The unavoidable reach of the Internet means that even local businesses need geographically broad protection for their marks.
If trademark counsel concludes that your company name and logo are both protectable and available, he or she can represent your company in applying to register them as trademarks.  Like trademark rights and trademark searches, trademark registrations usually are country-specific.
Trademark registrations provide important benefits to their owners, including:
Constructive notice nationwide of the trademark owner's claims
Evidence of ownership of the trademarks
Right to sue infringers in federal court, instead of state court
Basis for obtaining registrations in other countries
Assistance from U.S. Customs Service in preventing the importation of infringing goods
What If You Don't Properly Evaluate And Protect Your Marks?
Some business owners mistakenly believe they do not need to address trademark issues unless and until problems come up.  In fact, addressing trademark issues after a problem arises may be too late.
The costs of properly evaluating and protecting your company's marks are modest, especially compared to the potential costs of failing to do so.  For example, your company could face significant costs if it receives a trademark infringement claim and it is not prepared to respond.  Your company also could fact significant costs if it is unable to stop another party from infringing its marks.
Whether you realize it or not, the name and logo of your small business are valuable assets and might be protectable as registered trademarks.  In a business environment driven by the global Internet, the modest expense required to properly evaluate and protect your company's name and logo is a sound investment.
The post Trademarks & Small Businesses appeared first on Home Business Magazine.