It began as a typical corporate meeting. You know the type – four hours of incoherent status updates, Gantt charts and latte slurping. Dozens of staffers lined the table, noses buried in laptops and smartphones. An IT guy snoozed in the corner. Two executive sponsors argued over the fonts in a massive PowerPoint deck, while a contingent of overdressed consultants waited, multiplying billable hours in their minds.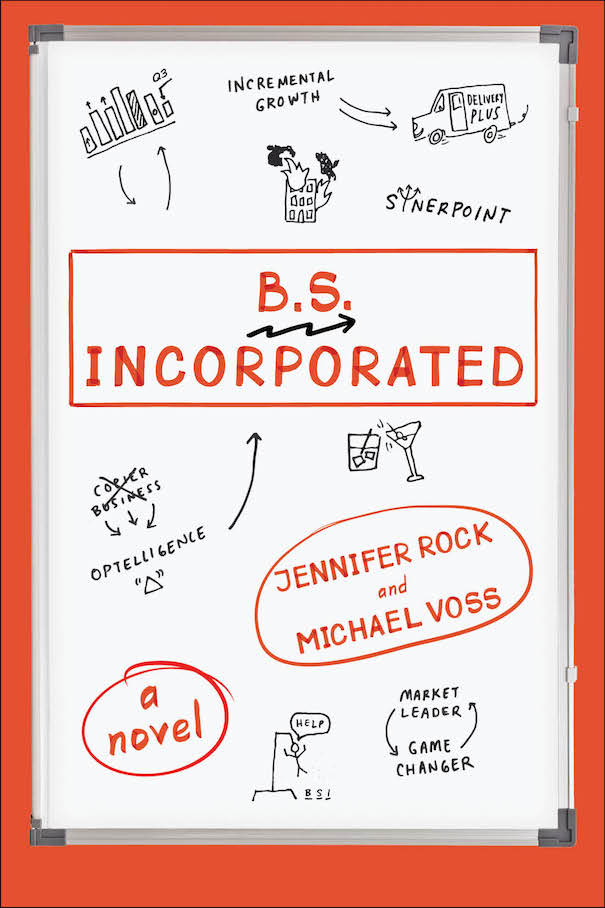 For three hours and 57 minutes, we watched the meeting – and project – veer off the rails. When we escaped (out of the office and onto a bar patio), we traded stories about the best and worst workplace behaviors we had ever seen. That's when inspiration struck: we needed to quit our jobs and start a home-based communications agency so we'd have the flexibility to turn our crazy corporate experiences into a novel.
---
---
And that's what we did. But as we set out to skewer the jargon, absurdity and futility we'd left behind, we began to realize that our corporate experiences weren't all bad. In fact, we realized we had some universal, serious and heartfelt things to say about the working world.
This is why we decided to explore some of the deeper, human themes of corporate America, in concert with the overall comedic tone of the story. Here are four of those themes and why we tackled them:
We wanted to shine a light on the overworked and underappreciated. Business bloggers and pundits tend to focus on the heavy hitters: Fortune 50 execs, billionaire entrepreneurs and wildly successful C-level types. Where's the story of the PR manager who quashed a potentially damaging company story? The A/V ninja who troubleshoots the video-conference system minutes before an investor call? In our book (figuratively and literally), these are the heroes.
We had seen too many good cultures poisoned by bad consultants. Before you object, keep in mind that we are now consultants, too. So we're well aware there are plenty of good firms and individuals out there. But the industry is also rife with shady operators who embed themselves within large companies like a virus overtaking its host. They specialize in bait-and-switch contracts. Churn up nonexistent problems to solve. Erode company morale. Consultancies like this are tailor-made to serve as antagonists in someone's workplace novel. Like ours.
We felt duty-bound to honor business communicators. You may think professional communicators make for odd heroes/heroines, but consider the facts. Their all-access passes to every corner of the company – from the penthouse to the warehouse – give them a unique perspective on the business. They're articulate about the organization, and empathetic to people who depend on it. Quick with a joke; great with a turn of phrase. And they can hold their liquor. In short, business communicators are some of smartest, funniest, most dedicated people you'll ever work alongside. Heroes in the making, we say.
We wanted you to know we feel your pain. No matter your industry or organization, you've likely lived through some painful workplace scenarios: poorly planned re-orgs or layoffs; lousy bosses; jargon-infused strategies with little or no substance. In fact, you may have escaped a workplace meeting or a corporation like we did. The only upside to this kind of absurdity is that it creates a sense of camaraderie among those who have persevered through it. And that's ultimately what we want "B.S., Incorporated" to be – a story that makes you laugh and cringe and roll your eyes. And maybe even cry just a little. Because, hey, we've all been there.
Michael Voss and Jennifer Rock have spent 20+ years as professional communicators and are co-owners of the communications agency ROCKdotVOSS. Their debut novel, "B.S., Incorporated," has been described by reviewers as "witty and smart," "a rich combination of comedy, ingenuity and sass" and "it stands with some of the best business novels in its genre." Learn more at rockandvossbooks.com.
###
B.S. Incorporated, by authors Jennifer Rock and Michael Voss, was released in May 2016, published by Wise Ink Creative Publishing.
Funny, insightful, and heartfelt, B.S. Incorporated has been compared to The Office, The Devil Wears Prada, and Office Space.
Although it is a work of fiction, B.S. Incorporated draws from the authors' real-life corporate experiences.  It is a feel-good story about people finding themselves and coming into their own while simultaneously skewering every aspect of life in corporate America.
"After yet another mind-numbing, daylong meeting about a project, we fled to a bar patio in the shadow of our company's office building", says Jennifer on the origin of the novel. "There, we drank to excess and swapped hilarious and heartbreaking tales about life in corporate America. At that point we realized we had a story—actually, many stories—worth telling, and we pinky swore that after sobering up, we'd write a book about our experiences."
Synopsis
Business Solutions, Inc. is in a state of chaos. While the employees spend their time rendezvousing in the stairwells, the CEOs are running their business into the ground through the use of shady consultants.  Will Evans, warehouse-worker-turned-white-collar-employee, is put in charge of implementing the consultants' plans. Here he finds himself thrust into a muddle of absurdity and responsibility that he never expected.
When the plans push BSI to the brink of bankruptcy, Will teams up with Anna Reed, a corporate mercenary with heels as high as her ambition.  He needs her cunning and courage to pull off his covert plan to save the company.  Can Anna, the consummate job jumper, find a reason to go all-in on BSI? Or is she better off bailing and letting the company go down in flames?
Praise
"B.S., Incorporated exposes the crazy, funny underbelly of an institution and skewers the heck of out it. Be ready to laugh and want more!" – Jayne J. Jones, Author, Capitol Hell, 2013 USA Best Book of the Year
"Funny as hell, with sharp observations and cunning insights. It reads like the best happy-hour story you've ever heard." – Matt Kramer, CEO, Saint Paul Area Chamber of Commerce
"I enjoyed the hell out of this book. It harpoons the bloated, mindlessly self-destructive tendencies of American corporations. But it's also a human story. Which is why–despite the absurdity and arrogance and plain ol' stupidity on display at BSI–I'd kind of like to work there. Are they hiring?" – Bill Anderson, President, One Voice Creative Media
"B.S. Incorporated is a book that anyone with any experience in the business world will get a huge kick out of. Authors Jennifer Rock and Michael Voss have written an incredibly engaging read that will have their readers laughing uproariously and turning the pages just as quickly as they can in order to find out what happens next. The authors clearly have vast experience in the business world, because so many of the scenarios they impart are things that many of us have encountered in our day to day careers." – 5 Stars, Readers' Favorite
"Rock and Voss balance their cynical and comical writing style with engaging dialogue; alternating character scenes punctuated with fictional business news, Wall Street articles, and company email memos; romantic interests; and a flurry of unexpected moments. A fun read that definitely has wide audience appeal!" – Red City Review
"A book that reads obsessively until the last pages in which action and thriller take the place of the story with a powerful novel, complex, brilliantly written that transforms before our eyes, just like a masterpiece that reveals new parts of itself according to the observation point." – Booktica
About the Authors
Jennifer and Michael have a shared passion for storytelling that goes back – way back – to when Jennifer published haikus in her first-grade newsletter, and Mike entertained other kids on the school bus with his creative fiction.
Not surprisingly, their jones for crafting a tale fueled their individual career paths, where each held roles in journalism, advertising, public relations, marketing and corporate communications. Jennifer and Michael had the good fortune to work for and with companies that spanned industries and impact – from privately held start-ups to Fortune 50 powerhouses to, now, their own communications agency.
Both authors live near Minneapolis where they work as speakers and consultants. They share their best stories during happy hour. B.S., Incorporated is their debut novel. For more information, visit http://www.rockandvossbooks.com/.
Readers can connect with Jennifer and Michael on Facebook and Goodreads.
The post Turning B.S. into a Book: Four Reasons We Turned Our Career Struggles into a Novel appeared first on Home Business Magazine.